Chinese manufacturer Kaihua makes the popular budget Kailh mechanical keyswitches for computer keyboards. Being in the shadow of industry dominator traditional, and perhaps even Razer, Kaihua has invested in a new initiative which could perhaps provide it with some limelight. According to a recent report on Tom's Hardware Kaihua has designed some modular mechanical keyswitches and has at least one product design win which will come kitted out with a set of these switches.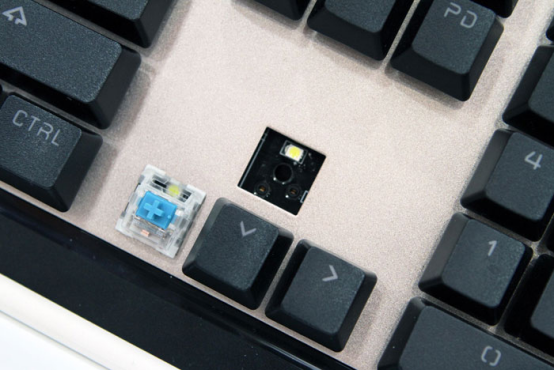 The scope of the modularity on offer from the new Kailh mechanical keyswitches means that users can not only change the keycaps, they can change the mechanism on a per-key basis too. So you can buy a keyboard decked out with red-type switches and change the WASD cluster to browns, for example. Kailh will be offering modular red, blue and brown-type switches initially. A diagram and overview of the blue shaft modular switches is shown below (click to zoom in).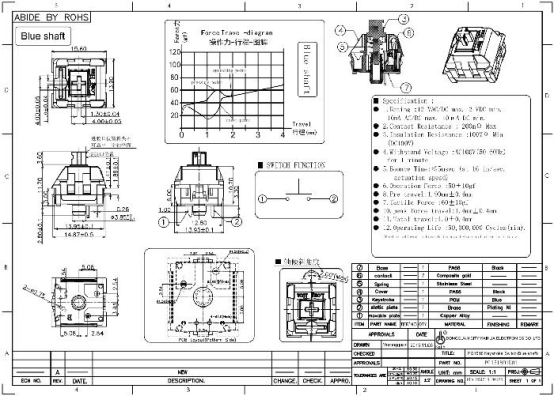 As noted by Tom's it would be a rather laborious, and probably costly, exercise to swap all your keys between one type and another so this modularity is probably intended for adjusting the feel of just certain banks and clusters of keys.
So far just one mechanical keyboard is known to employ the new modular Kailh keyswitches, the G Master Mk1 from B.Friend. This looks like a decent gaming keyboard (for about £60) with monochrome backlighting, fast polling, anti-ghosting, and a long braided USB connector cable. However I can't find any reference to modular keys on the product info page (Google translate the text but not the promo graphics on the page, of course).
Would such modular key functionality appeal to HEXUS readers?